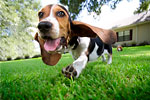 I've had two websites with Sitewelder since 2008. I'm happy to say I've been nothing but amazed and pleased by the FANTASTIC CUSTOMER SERVICE Alan and Mason have delivered every time I called or emailed, sometimes at 3 in the morning! I couldn't ask for better service.
Any time I've had a dumb question or an idea for how to improve my websites, these guys have been immediately responsive, often offering much better ideas than my own. Their willingness to customize my sites using my own logos and my own designers' assorted ideas has been terrific.
The ability to totally control my own websites - knowing nothing about HTML, Flash or building websites -has made an enormous difference in the quantity of client contacts and assignments we have scored! LOVE the fact I can make a sweet image this afternoon and have it online within 2 minutes of completing the imaging.
I highly recommend Sitewelder for their ongoing spirit of helpfulness and incredible ease of use to all photographers and artists of any persuasion."
- Gary Parker, garyparker.com